Club Hire
Mellor Centre – a venue in Stockport, with vibrant space for educational classes, toddler groups, fitness sessions, and local events.
Whatever type of event you have in mind, our selection of rooms allows you to choose the perfect space. Whether you need a large room to host a yoga class, a small room for your toddler group or somewhere with spectacular views to inspire your art class.
Mellor Centre offers affordable space with amazing views, available by the hour, the day – or as long as you need.
Everything you need for a successful event
Catering Facilities
Kitchen facilities available for all rooms
Free WiFi
Free access to the WiFi network
Free Car Park
Free use of our large car park
AV Equipment
Audio visual equipment available
Arkwright Hall
Hourly Rate: £20.00
The Arkwright Hall is our largest room, with a seating capacity of 100 and an overall capacity of 150. With its polished wooden floor (great for dancing on) and its adjacent stage (there's always one star), this is a great room for larger function.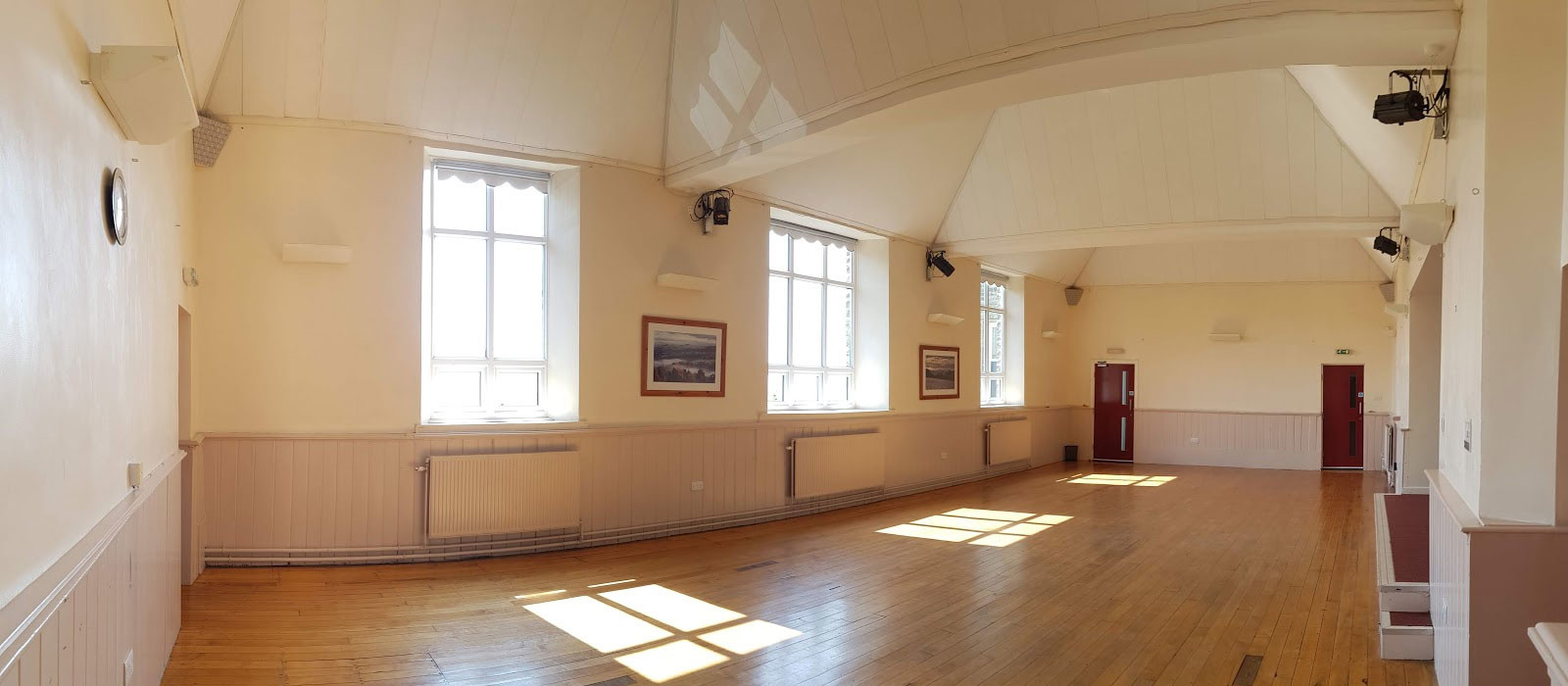 Walklate Room
Hourly Rate: £15.00
The Walklate Room is ideal for the smaller events or as an extension to the adjoining Arkwright Hall. With a seating capacity of 20 and an overall capacity of 30, this room is perfect for your smaller event or used to accomodate your guests as Arkwright Hall is transformed into your evening disco.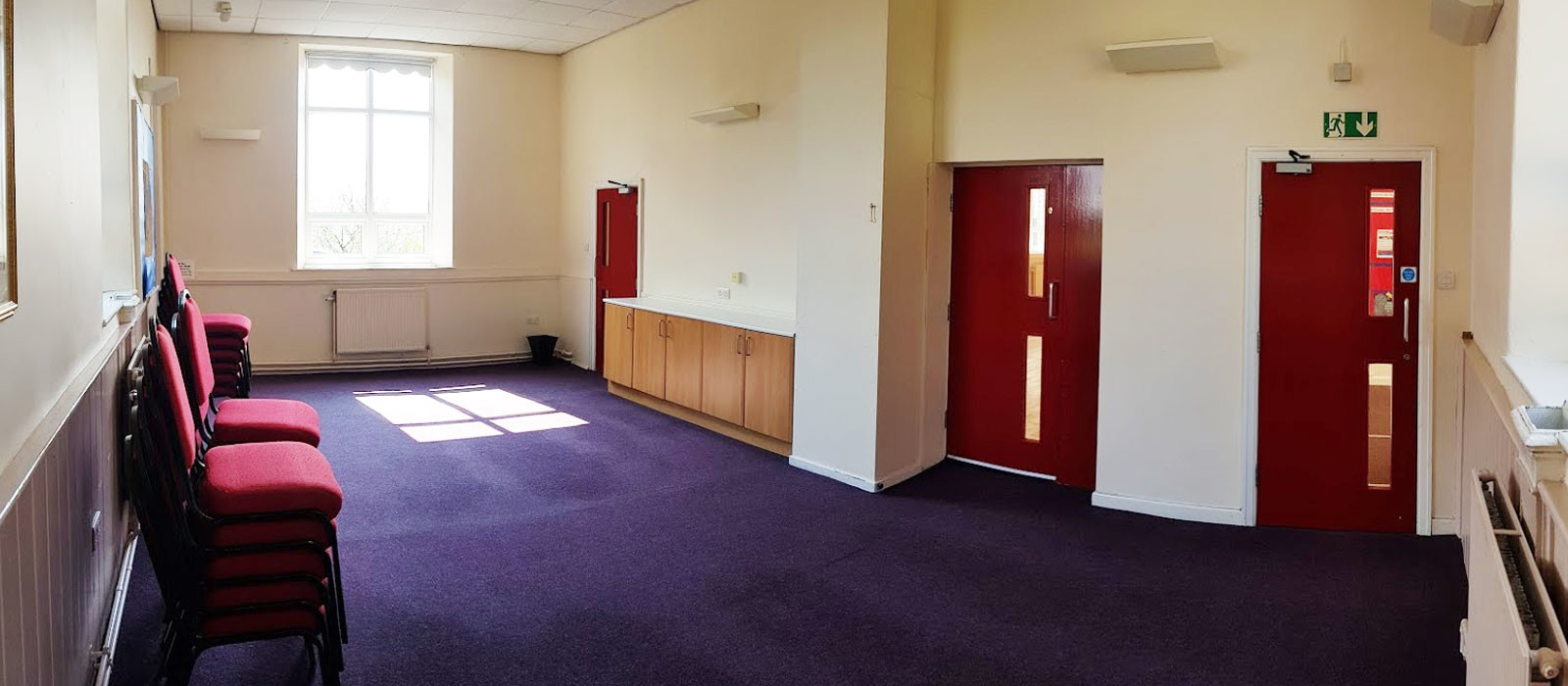 Special Offer: 50% Off
When Arkwright Hall and the Walklate Room are hired together, you will receive a 50% discount on the Walklate Room hourly rate.
Freeman Room
Hourly Rate: £17.00
The Freeman Room is ideal for smaller events. Situated on the ground floor, the Freeman Room has an overall seating capacity of 50. With its carpeted floor, this room is perfect for your medium sized event or gathering. The table seating arrangement can accommodate around 25 to 30.
Bardsley Room
Hourly Rate: £15.00
The Bardsley Room is ideal for smaller events or private parties. Situated on the first floor, the Bardsley Room is only accessible via two flights of stairs. Carpeted throughout, the seating capacity of this room is 20 with an overall capacity of 30.
Regular Groups
There are a number of local groups that use Mellor Centre for their meetings and events. Details of these groups can be found below. For more information on when these meetings and events take place, check our What's On section.
Moor End Women's Institute
To many ladies in Mellor, being a member of the Moor End W.I. is a very pleasant experience, bringing together a wealth of talent, the opportunity to develop new skills and above all to enjoy being part of a very lively and friendly group of people. Interesting talks, educational and cultural visits are all part of the programme.
We extend a warm welcome to anyone who would like to join us.
Meetings are on the third Thursday of each month at 7.45pm in Mellor Centre. We look forward to seeing you there.
For more details please ring:
Liz Kidston – 0161 427 7275
Women's Evening Fellowship
Chairperson Lesley Futcher – 0161 449 0977
Founded originally by Women attending Mellor Church, the meetings are now open to all who wish to meet together in fellowship. Its aim is to co-ordinate the many activities of women resident in the Mellor and Marple area; to stimulate friendship and to listen to talks and lectures of interest to the Fellowship members. Each year the Fellowship supports fund raising for a selected Charity. The Fellowship has a Committee of nine members who serve for three years and from whom a Chairperson, Secretary and Treasurer are appointed. The Committee members, during their time in office, aim to provide a varied programme of events. The group meet on the 2nd Wednesday in the month at the Mellor Centre. The July meeting is normally an Outing to which family and friends are invited. There is no meeting in August.
Yoga
Tuesday Evenings – 6.45pm – Maggie Cockbain – 07718 765880
Wednesday Mornings – 10.00am till 11.30am – Mary Griffiths – 0161 427 1405
We are a mixed group of both beginners and intermediate students. Anybody can practice the art of Yoga, it brings an awareness of body and mind, and is both stimulating and relaxing.
The relaxation comes from concentration on the body position as you work.
Come and try one class and see how much you can enjoy Yoga, there is nothing to lose!
Mellor Toddler Group
The Mellor Toddler group meet on a Thursday morning in the Mellor Centre at 10am until 11.30am. All Mums, Dads, Child Minders, Grannies etc with children and babies are very welcome. Most of the children that attend are three years and under, therefore there are toys more suitable for that age range, but we are more than pleased to see any pre-school children.
The charge is £2.00 per adult and one child or £3.00 per adult and two or more children, this includes a healthy snack and drink for the children, and a hot drink and biscuit for the adults.
We are a very friendly group and look forward to meeting new faces, just turn up.
For more details contact Helen Kennedy – 0161 449 8656 or Margaret Lowe – 0161 427 6589
Tuesday Art Group
Meets on Tuesdays 1pm – 4pm
For full details please contact: Chris Hague 0161 427 7552
Mellor Art Group
The Art Group meets on each Wednesday from 10.00am till 1.00pm.
The group is self-directing with occasional visiting tutors, and a wide range of styles and techniques are followed. Some previous experience is desirable.
For further details please contact Milly Chadband on 0161 427 4430 or Lynne DeLoughery lynnedeloughery@gmail.com
Personalised Pilates
Monday mornings – 9.30am to 10.30am and 10.30am to 11.30am
Contact details Jo Burrows 0161 427 1148 or 07973 354092
Mellor Textile Group
Meet one Monday afternoon in the month.
For more details contact Meg Barley – 0161 427 4370